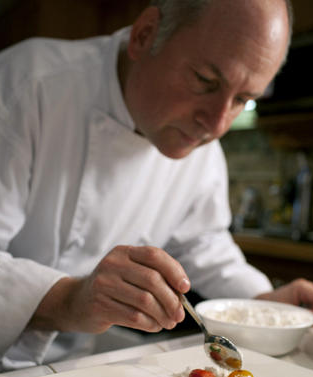 John Placko's step into the culinary arts was not a premeditated one. In fact, when he realized he had a passion for it, he was already into his original passion — surfing.
He was born in Sydney, Australia, and became hooked on surfing as a teenager. John came to work in his first restaurant by way of a surf shop he worked at. When the surf shop closed, he ended up crossing the street to work in a small Italian place with an owner who taught him the importance of fresh food and an organized kitchen. His introduction to the hospitality industry was a very positive one and John was immediately hooked.
John went right into hotel and catering management right after high school. It led to becoming a cook's apprentice and entering culinary competitions — and winning those competitions! They took him around the world from Australia, Germany, France and Canada.
Canada is where he stayed and has lived in for more than 18 years. He has continued his pursuit of culinary competitions becoming the captain of the N.S.W. regional culinary team and competitor in the Bocuse d'Or. 
In 2012, he stepped into business ownership starting Modern Culinary Academy and Powder for Texture. He left a 17-year track record in the corporate world as Corporate Chef with various organizations including Maple Leaf Foods, Cara Operations Ltd, Prime Restaurants Inc, and Campbell Company of Canada.
His passion today is very much focused in the culinary evolution most commonly referred as molecular cuisine. Over the past 6 years, he has been invited to present, demonstrate and teach this modern cuisine to numerous culinary groups at Guelph Food Technology Centre, Humber College, Liaison College, George Brown College, Nella Cucina and The Cook Book Store.
John actively blogs and writes articles on molecular cuisine as well as other food related topics which can be found frequently in Food and Hospitality Magazine, as well as Food in Canada Magazine. He is regularly invited to do demos in TV talk shows like Steve and Chris show.
Having his own business allows him to follow his passion of molecular cuisine including educating others about the ingredients, equipment and techniques. His wife, Judie, who recently retired from teaching, has become his business partner.
Favourite Quote:
"The harder you work, the luckier you become."
2012 onwards
Principal, John Placko Culinary Consulting www.johnplacko.com
Culinary Director, Modern Culinary Academy www.ModernCA.ca
Owner, Powder for Texture ingredients www.powderfortexture.com
Part-time teacher, Humber College, School of Hospitality, Recreation & Tourism.
2000's
Director of Culinary Excellence- ThinkFOOD! Maple Leaf Foods.
Corporate Chef, Campbell Company of Canada.
Director of Culinary Development, Prime Restaurants of Canada.
1990's
Product Development Manager/Executive Chef, Swiss Chalet.
Executive Chef at these properties;
Hyatt Regency Villahermosa, Tabasco, Mexico.
Papillon Restaurant, Sydney, Australia.
Wolfie's Restaurant, Sydney, Australia.
Perdie's Restaurant, Sydney, Australia.
Il Piemonte Restaurant, Sydney, Australia.
Pavilion Hotel, Canberra, Australia.
1980's
Co-ordinating Chef, Ansett Airlines of Australia.
Chef Tournant, Hilton Harbour Castle Hotel and Winston's Restaurant, Toronto.
Apprenticeship, Shore Inn Hotel. Sydney, Australia.
Trainee Chef/ Manager, Nationwide Food Service. Sydney, Australia.
Culinary judging
Canada's Top 50 restaurants. Vacay.ca
Discovered Culinary Competition. Nella Cucina, Toronto.
Ontario Independant Meat Processors, Ultimate Burger Competition.
Taste Canada Cooks the Books, Royal Winter Fair.
Culinary Competitions
Bocuse D'Or – Lyon, France. Australian representative 1989.
Culinary Olympics – Frankfurt, Germany. Team Captain, New South Wales team 1988.
Champion State of Australia, Team Member, New South Wales 1987.
Culinary Olympics- Frankfurt, Germany. Apprentice support member. Australian National Team 1984.
Memberships
RCA (Research Chef's Association).
Escoffier Chefs Society (Toronto).
Honorary Life Member, Catering Institute of Australia, S.A. Guild of Cooks.
TV appearances
Steven and Chris Show CBC.
16 x 9 Global TV.
Canada AM CTV.
CP24 Live.
Shopping Channel.
Space Channel, InnerSpace program.
Breakfast Television (Toronto, Winnipeg).
City Cooks (City Vancouver).
CHTV (Hamilton).
CBC (Halifax).
Rogers TV (Toronto, Mississauga and Kitchener).
Good Morning Australia, Doctor's Television Network, Anne's Kitchen (Australia).
Media contribution
Special feature stories, Toronto Star;
– Modernist Cuisine (April 2011).
– World's new #1 (Noma, July 20, 2010).
– Gastronomy (el bulli, August 25, 2009).
Featured in the Toronto Star column "Fed" by Corey Mintz- The Mad Scientist.
Food in Canada Magazine, contributing writer (2009-present).
Foodservice and Hospitality Magazine, contributing writer (2012).
YFM Magazine, contributing writer (2013).